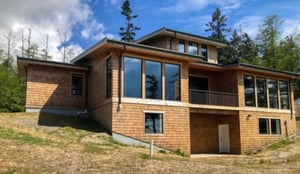 This custom residence started with a simple customer request for her final retirement home, "to create a more comfortable, one level home, that uses less energy, and is an example for how future homes should be built." With this goal in mind, Clifton View Homes (CVH) quickly turned a craftsman style farm house in Oak Harbor Washington into a model for sustainability.
International building construction expert, and CVH owner, Ted Clifton Sr. helped guide the homeowner to create a home that met her goals while providing a "completely independent and secure life experience." Completed in 2022, the home has amassed an impressive collection of national awards and accolades from prominent organizations such as the Department of Energy (DOE), Green Builder Media, & The Structural Insulated Panel Association (SIPA).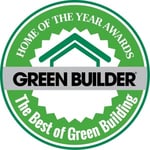 Clifton View Homes has been building custom homes in the Pacific Northwest for 34 years (since 1989) and pioneered the concept of a Positive Energy Home. The judges from Green Builder's 2023 Green Home of the Year competition (of which this home won Green Builder Media's 2023 Mainstream Green Home of the Year) called this project "Better than zero" which is an understatement. A positive energy building takes the concept of net-zero construction to the next level, where not only are homes/buildings energy efficient enough to generate 100% of the energy needed for operation, they also are so energy efficient they have a surplus of energy. This "positive" energy cache can power electric cars (like this modern example), neighboring homes (check out this Northern Cal Community), and be shared with local utilities for other needs.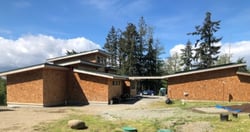 Beyond energy generation (a 10 kilowatt photovoltaic system powers this home and is large enough to power several neighbors' homes during an emergency), a positive energy building has to have optimal energy efficiency to best conserve the energy generated. After all, if a building isn't using the energy generated efficiently in its daily operation, this seems almost counterintuitive (truly a waste of resources). Building science has proven the best way to manage energy efficiency isn't through appliances, or light bulbs, or insulation alone. Instead, a truly energy efficient building is created in the building envelope system design. After 30+ years of in-field practice, and in this Hillside Farm House, CVH has regularly turned to Premier SIPS to create a superior, high performing building envelope system.
To create a tight, energy efficient system the Hillside home features Premier SIPS MAX roof and walls (Graphite Enhanced - GPS Structural Insulated Panels), an ICF (Insulated Concrete Form) daylight basement foundation (learn about Premier ICFs here), spray foam insulation on top of the foundation and Vinyltek triple-glazed windows and doors.
The results of this building system are nothing short of impressive. With 2,224 sf the average monthly energy bill is calculated to be $-20.00. For an annually savings of $2,550 of annual savings each year versus other typical new homes of comparable size. According to the DOE (including fuel escalation rates) this saves the homeowner a remarkable $103,200 in the home's first 30 years of operation. A -18 HERS* score, further indicates the "positive energy" status, where a HERS score of zero (0) indicates a home is self sustaining ... or zero energy. Being -18 HERSThese stats were among some of the reasons why this home was also named the U.S. DOE Zero Energy Ready Home program's Housing Innovation Awards 2022 Winner. ** These awards are held in conjunction with the Energy Efficient Building Alliance (EEBA)'s annual High Performance Home Summit which brings together industry and government experts, along with existing and aspiring home builders in the high performance construction space.
As the homeowner of this impressive farm house said, "Everything just came together, one idea after another." While they weren't originally intending to create a rainwater collection system, the hillside location and its daylight basement provided a space to house the HVAC system (a ground source heat pump unit) and an impressive 25,000 gallon rainwater storage system. Located in the Pacific Northwest (where rainwater is plentiful at certain times of the year), this huge storage system serves the home's annual domestic water needs and provides a massive surplus of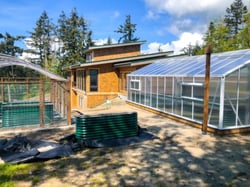 water for other uses (including a tie to a local water district, allowing the home to provide water to its neighbors in the case of a major emergency). "Realizing I would have all this water available, I started looking into adding greenhouse, and raised-ed gardens for raising my own vegetables," the homeowner said. The water system now also irrigates fruits and vegetables grown in raised bed gardens, a screened-in fruit tree forest, and a greenhouse.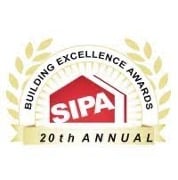 Rounding up the Hillside Farm House's national awards is the 2023 SIPA Building Excellence Awards, Best Overall Residential Winner (and Best High Performance Winner) which judges thousands of SIPs high performance projects to recognize the best Structural Insulated Panel projects in North America each year.
The Hillside Farm House is not only a project in receipt of impressive accolades, but it is also one of Clifton's many legacy projects that makes a positive impact on conserving natural resources and using renewable energy in the built environment for the benefit of others. Nathan Kahre, who is the innovation and innitiatives manager at EnergyLogic, an applied science company based in Berthoud, Colorado says, "Clifton View Homes designs and builds amazing homes that are so far beyond the majority of the building community." The community couldn't even envision the stepping stones it takes to get to this level of construction." While CVH, along with architect Zero Energy Plans, has perfected the science and the construction process, we're proud to know that Premier SIPS continually play a critical role in simplifying and perfecting their system.
View the Hillside Farm House's full project photo gallery, details, and DOE profile in our Project Portfolio here.
---
* To compare how exceptional a -18 HERS score is, an average United States existing home on the HERS rating scale typically has a HERS score of 140. An average new home typically has a HERS score of 90.
** To qualify for a Housing Innovation Award, homes must meet the DOE's Zero Energy Ready Home (ZERH) certification requirements, with independent, third-party verification. Every ZERH-certified home also must have certifications from ENERGY STAR's Residential New Construction Program for an efficient building envelope and the EPA's Indoor airPLUS program for a healthy indoor environment. In addition, the homes have to demonstrate energy-saving building technologies and practices from the DOE Building America Research-to-Market Process.
LEARN MORE
Related Articles
Premier Building Systems is the top Structural Brand in Green Builder Media's Sustainable Brand Awards 2023, and at the..
New federal tax incentives (45L and 179D) offer lucrative tax credits or deductions to design & build with energy efficiency..
Net Zero means a building that only uses as much energy as it can produce on an annual basis. Follow these 12 steps to a..